Tuile faîtage Cap profileuse
Catégories de produits de toiture Ridge Cap pain formant la Machine, nous sommes des fabricants spécialisés de Chine, toit Ridge Cap pain formant la Machine, Machine de formage rouleau toiture fournisseurs/usine, vente en gros produits de haute qualité de toit Ridge Cap Roll formant Machine prix R & D et de fabrication, nous avons le parfait service après-vente et support technique. Attendons avec impatience votre coopération !
Flux de travail :
DEROULEUR - Guide de l'alimentation - défrisage - principal profileuse - PLC Contol système - presse - coupe hydraulique - Table de sortie


Paramètres techniques :
| | |
| --- | --- |
| Raw material | Colored steel, Galvanized steel, Aluminum steel |
| Material thickness range | 0.25-0.8mm |
| Rollers | 16 rows(according to drawings) |
| Material of rollers | 45# steel with chromed |
| Shaft diameter and diameter | 60mm, material is 40Cr |
| Cutting mode | Hydraulic |
| Material of cutting blade | Cr12Mov with quench HRC58-62° |
| Forming speed | 15-20m/min(without press) |
| Controlling system | PLC |
| Main motor power | 7.5KW |
| Hydraulic station power | 3KW |
Photos de machine :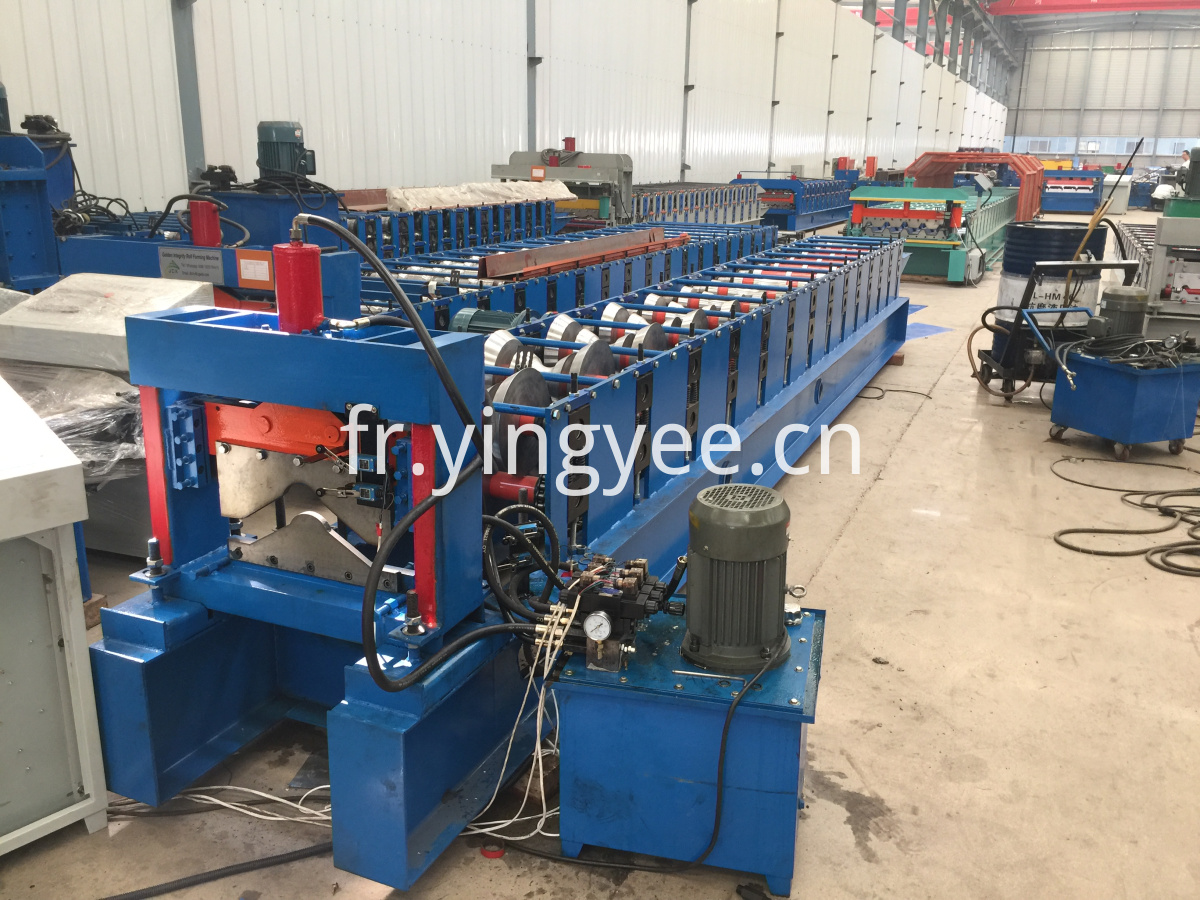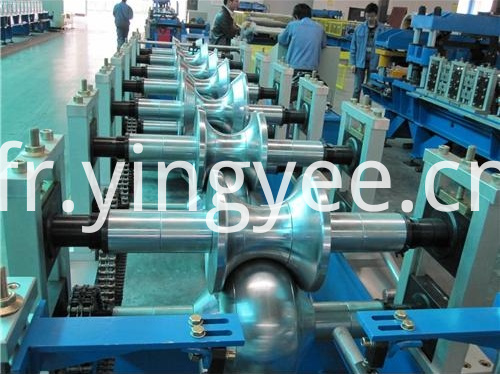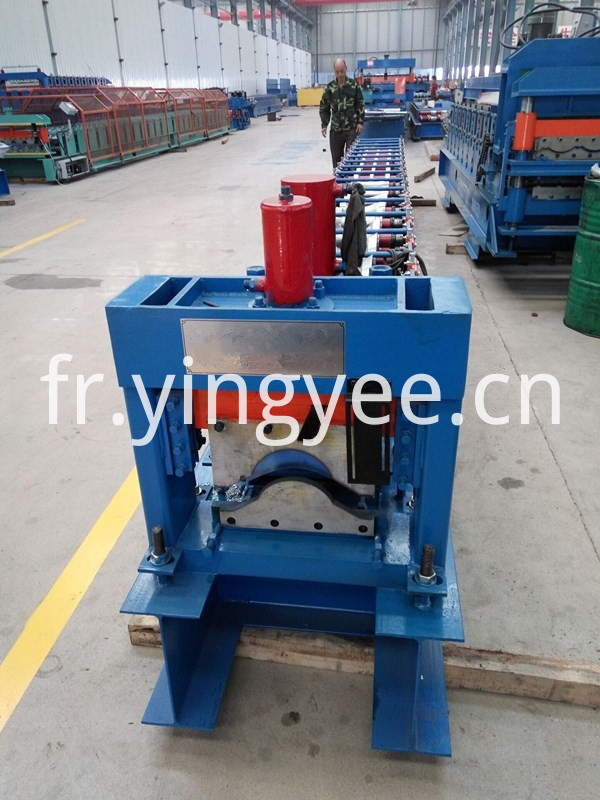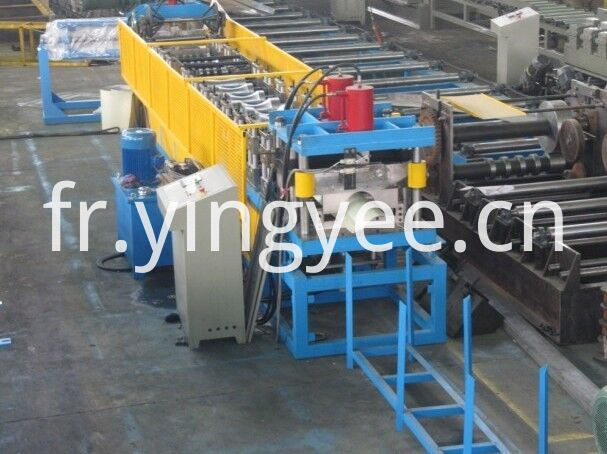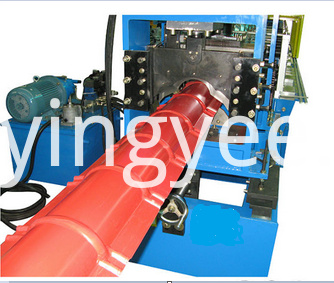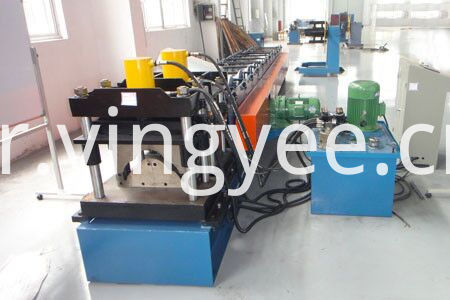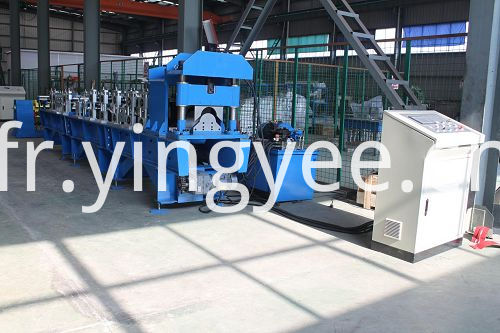 Informations d'entreprise :
YINGYEE machines et technologie SERVICE CO., LTD
YINGYEE est que le fabricant spécialisé en frappe a froid diverses machines et lignes de production automatiques. Nous avons une équipe formidable avec hautement technologique et d'excellentes ventes, qui offrent des produits professionnels et services connexes. Nous avons prêté attention à la quantité et le service après, a obtenu d'excellents commentaires et l'honneur formelle les clients. Nous avons une grande équipe pour après service. Nous avons envoyé que plusieurs patch après l'équipe du service d'outre-mer pour terminer l'installation de produits et de réglage. 

Nos produits sont vendus à plus de 20 pays déjà. Inclus également les Etats-Unis et l'Allemagne.
Produit principal :
FAQ:
Formation et Installation :
1, nous offrons le service d'installation local en charge payée et raisonnable.
Essai 2 QT est bienvenue et professionnel.
3. guide de manuel et utilisation est facultatif si aucun invité et aucun installation.

Certification et service :
1. correspond à la norme de technologie, ISO produisant la certification
2. certification CE
3. garantie de 12 mois depuis la livraison. Conseil d'administration. 
Notre avantage :
1. délai de livraison court
2. communication efficace
3. interface personnalisé.
Groupes de Produits : Petit pain de feuille de toit formant la machine > Cap faîtière profileuse